What if trees and birds had souls ??….Well, I don't know about other trees,but the Wisteria tree that I took the shade under yesterday definitely had one. It goes on like this….
Yesterday after a short evening walk..I decided to take a shade under a beautiful wisteria eventhough it is not great as a shade,The majestic purple leaves overflowing its bark is a splendid view.  So with an intention of resting for a while, I sat under the Wisteria.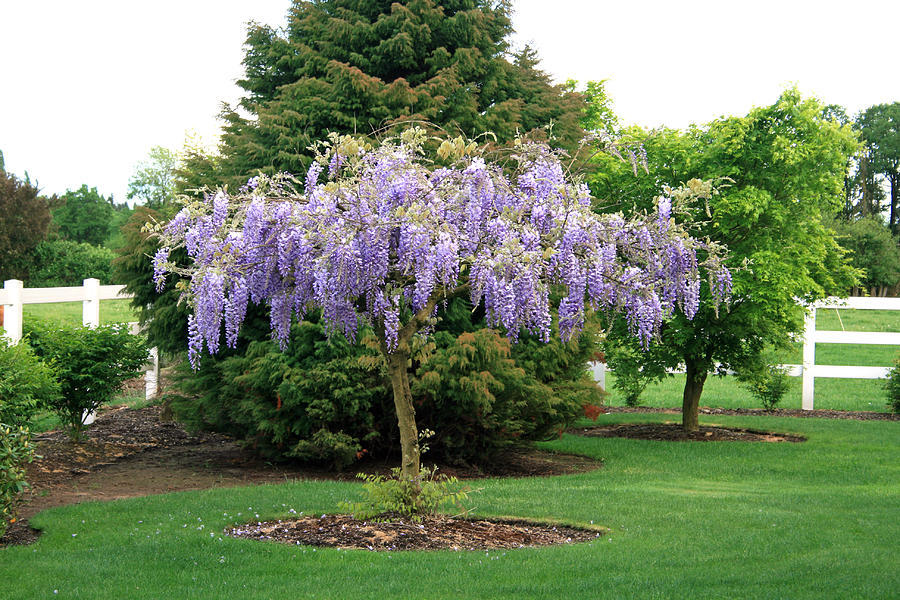 (pic coutesy: google images)
I don't know whether you know this fact . Did you know that the Wisteria trees are great symbolisms ? Well, Wisteria tress symbolize and speaks of romance, lost love and also speaks of the power of the heart to endure in times of hardships . The symbolism of wisteria in the Victorian era also gives the picture as that of clinging love . You can read more about this here. Wisteria symbolisms
As I was thinking about this, I asked myself this, "Are unsuccessful romance always unsuccessful ,Do they succeed anywhere at any point of time ?" We all are used to hearing tales of lost love from our premature years itself, but is that it ? Do they have a happy ending anywhere ?..It just resembles a mathematician's thought that parallel lines will meet at infinity…But ironically infinity is not a reality for the majority….Lets leave the latter to mathematics and focus on the former for the time being.
"Love never fails. But where there are prophecies,they will cease;where there are tongues, they will be stilled;where there is knowledge,it will pass away."(1 Corinthians 13:8). I would also like to believe this verse of St.Paul…maybe there do exist an infinity where the parallel lines meet……
"Yes it does….."…whispered a voice from behind…I looked back..I could see just the tree, maybe it was just an illusion, But I heard the voice again, " Yes it do my friend, there is no such thing as lost love,…true love never fails.."..I stared there in utmost bewilderment…..Is it a hallucination  ?..But the Wisteria didn't wait for my astonishment to settle down. It started telling a story, which I would like to tell it in his own words but the title is mine of course…..
August Wind
 "The monsoon had been taking its turn for the past few days,making the most of the few months nature had granted. But contrary to the current trend, its the wind that took its role today, a wind that had a serene bliss which it spread to each and every intruder it encountered on its way, an August wind….
That was the day I first met her, the day the wind was busy flowing elsewhere like a seeking vagabond. She had the eyes like that of a hummingbird and her voice could match the sweetness of a nightingale. We became good friends soon… I discovered a new and a unique best friend in her….. She too…. She was a mirror image of mine, an image that I could talk to without any prejudice or any fear and like I talk to myself. She made me understand that true love and true friendship are one and the same… both comes disguised and many men fail to understand it. She gave me the insight that I could talk to a person for several hours and again continue it with the same enthusiasm.She was the august wind in my life….
Years passed… just like the august wind, she came, gave me a serene bliss and continued its flow through its path, and completely left from me. But the happiness she gave me outweighed the sadness of her departure. Slowly I too decayed to the sand…
Again I was born , this time as a Wisteria,completely unaware of what had happened before and what will happen in the future.…. I grew up completely to the present stage and life was going pretty well monotonic…It was the month of August, I saw her for the first time..not to mention.. She had the eyes of a hummingbird and indeed she was a hummingbird which came for nectar from this Wisteria.….Instances of my previous life flickered across my mind like a reel from where I am telling this story….And …. A wind of an unfinished and a forgotten dream flowed through my body and mind…an August wind….."…
After that story the Wisteria again returned back to silence like an ordinary tree. I guess the Wisteria opened its mouth to clear my confusion which occurred to me when I sat under its shade or..Was it again another hallucination the mind created for myself to quench my quest…??
 (pic courtesy :google images)